2021 Annual Assembly, Croatia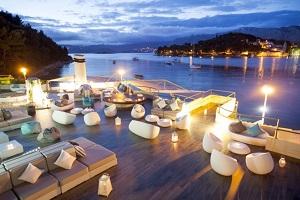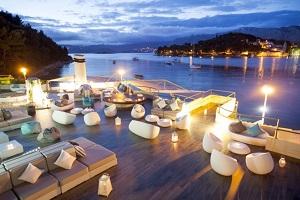 Our next gathering will take place in Croatia from 20–22 October 2021 at Hotel Croatia Cavtat, a leading five-star resort and conference centre enjoying spectacular views of the open sea and just 5km from Dubrovnik airport.
Meeting face to face is important for our network and we don't want to miss another opportunity to reunite. We are confident that we can safely and successfully put on a great event for those who would like to attend after such a long time apart. We are in regular contact with the venue reviewing our safety planning and ensuing that all official protocols and guidelines are followed.

"We know from experience that a network like ours sees increased business after meeting in person. This is especially important after the impact the COVID crisis has had on our industry …. there is much to discuss! Download Agenda."
| WED 20 OCTOBER 2021 | THU 21 OCTOBER 2021 | FRI 22 OCTOBER 2021 |
| --- | --- | --- |
| 16:00-17:00 Registration & COVID Test | 09:30-12:30 1-2-1 Meetings | 09:30-16:30 1-2-1 Meetings |
| 18:00-22.00 Gala Dinner, Private DJ & Nightclub | 14:00-20:30 Dubrovnik Old Town Tour & Dinner | 16:30 Meeting Ends |
SCHEDULE
We are taking every precaution to ensure our delegates safety and well-being. We have been following the evidence from the Events Research Programme which is being used by authorities to shape policies for the return of crowds to venues. Hence, all delegates will be requested to take a Lateral Flow Coronavirus Covid-19 Test (provided free of charge) before the meeting starts. Once registration has taken place, we will enjoy a dinner feast with an open bar at Restaurant Alverede. We have then arranged for us to relax with the exclusive use of the Posejdon Night Club where we have arranged an open bar and private DJ to help us dance off the calories!
Our official meeting will start on Thursday 21 October in the Congress Hall Ragusa and delegates will gain access to our exclusive Meeting Hub so that 20-minute business meetings can be arranged prior to arrival. After a productive morning of 1-2-1 meetings, there will be time to change before we take a relaxing boat trip across the bay to Dubrovnik Old Town, one of the world's finest and most perfectly preserved medieval cities in the world. We will be taken in small groups by English speaking guides around the marble-paved squares and cobbled streets, all of which have also remained unchanged for centuries. We will then enjoy dinner together at Victoria Restaurant before returning to the hotel by coach at approximately 20:00.
Our event will continue on Friday 22 October with more 1-2-1 meetings where delegates highlight their specialist areas, discuss cross trade, existing and new business as well as information regarding their country's regulations and requirements. These crucial meetings also provide an opportunity to share key import and export trade information.
MEETING MANAGER
The new era of remote working has compelled us to invest in a bespoke new Meeting Hub where our Members can connect virtually using the platforms that have now become an essential part of daily life including Zoom, Google Meet, Skype, and WhatsApp. The system includes a new state-of-the-art "Meeting Manager" so that Members can arrange their 1-2-1 meetings prior to arrival. Our new system has thought of everything so our delegates will be fully prepared with all the necessary information including an easy to read schedule available on mobile devices to ensure the gathering is well-organised and productive.
GUEST ROOMS
A range of stunning sea or lush park views guest rooms with ensuite bathrooms with a rain shower over a full size bath, luxury toiletries, free Wi-Fi, buffet breakfast are available from Euro 100 per night in a single room and Euro 120 in a double/twin room (excluding City Tax of Euro 1.50 per person per night).
REGISTRATION
We aim to include as much in the Registration Fee as possible to keep each delegate's expenses to an absolute minimum. The Registration Fee is GB £690 and includes the following:
Gala Dinner and Open Bar (Wed)
Exclusive hire of Posejdon Night Club plus Open Bar until 22:00 (Wed)
Meeting Room Hire (Thur & Fri)
Dubrovnik Old Town Tour (Thur)
4 Course Dinner & Drinks at Palm Terrace (Thur)
Morning & Afternoon Refreshments
Buffet Lunch served in the Restaurant Cavtat (Thur & Fri)
Administration
Event Photography
REGISTRATION DEADLINE: 6 OCTOBER 2021
The Spouse Fee of GB £260 includes Gala Dinner, Disco and Open Bar (Wed) and Dubrovnik Old Town Excursion and 4 Course Dinner & Drinks at Palm Terrace (Thur). Please note that if your spouse intends to join you for lunch please arrange with the hotel directly in order to avoid any confusion or embarrassment.
Delegates must be fully employed by a CC Member either on a full or part-time basis and not employed by any other company. Breach of this condition will result in the immediate cancellation of attendance with no refund. Only fully paid registered delegates with official conference badges are permitted to enter the meeting room.
WEATHER
October is one of the best times of the year to visit Dubrovnik. With mild weather, moderate temperatures and the summer crowds gone. The skies are mostly clear with more than 11 hours of daily sunlight and an average temperature of 19°C (66°F). See Forecast.
VISA REQUIREMENTS
Please note that Croatia is currently in the process of joining the Schengen Area. Citizens of the U.K., EU countries, the U.S., Canada, Australia and New Zealand do not need visas to visit Croatia. Visitors can visit Croatia for up to 90 days in any 180 day period. For other countries, please check the Croatian Ministry of Foreign Affairs' website for visa requirements for Croatia. If you do need a visa, please contact the Croatian Embassy in your country for more information. There is a list of Embassies on the Ministry of Foreign Affairs' website. This list will also tell you which Embassy to contact if there is no Croatian Embassy in your home country. It is possible to start the process of applying for a Croatian visa online at crovisa.mvep.hr; however, the application form needs to be printed off and submitted at an Embassy/Consulate or visa centre. Please email Judith for an official invitation letter. With regards to information relating to the COVID-19 conditions of entry into the Republic of Croatia, please click here.
COVID-19 PRECAUTIONARY MEASURES
We want to reassure you that we are taking every precaution to ensure your full safety and well-being during your stay with our CC COVID-19 precautionary measures. Adriatic Luxury Hotels have joined the SAFEGUARD Risk Prevention and Health Protection Program, provided by the International Certification House Bureau Veritas (BV). Hotel Croatia Cavtat is a proud holder of the SAFEGUARD certificate. Please click here to read more about the hotel's safety measures. Nearer the time we will provide full information on the procedures that will be in place during our event to ensure our delegate's safety.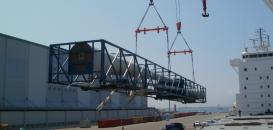 Nervion Internacional Characterised by Connectivity & Efficiency since 1987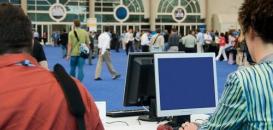 Exhibition Collaborations Secured in August 2021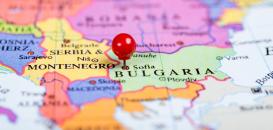 Tailor-Made & Trouble-Free Services from MS Shipping Bulgaria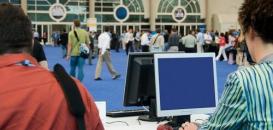 Exhibition Collaborations Secured in July 2021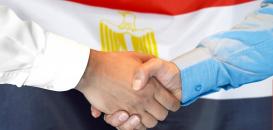 Quality, Agility & Efficiency at SQL Shipping in Egypt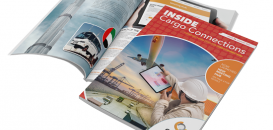 August 2021 Issue of our Digital Newsletter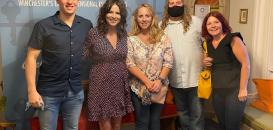 The CC Head Office team were recently reunited for a fun team building event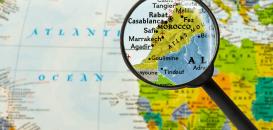 Ocean Bridge are Passionate about Progressive Logistics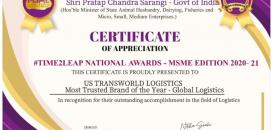 US Transworld Logistics Awarded as a Trusted Brand by the Government of India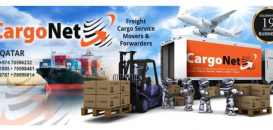 CargoNet Services are Looking to Expand Connections