Global Coverage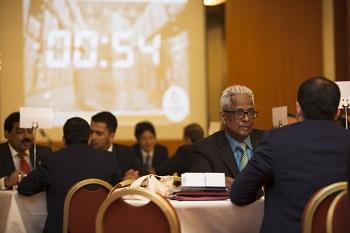 Cargo Connections is an ISO 9001 and ISO 14001 certified organisation established in 2014 with the aim of becoming a leading international network of freight forwarders. Click here to view our membership benefits.
Interested in joining? Please read our FAQ Brochure
Our Members offer clients the personal local service and flexibility that only privately-owned forwarders can, whilst benefiting from being part of a strong, established network. Please watch our company video.
To obtain fast and accurate rates/advice on a shipment, please complete our online Quote Request form.
Membership is growing steadily and currently comprises of 118 companies in 59 countries.
Argentina: Delfino Global
Australia: Outside The Box Logistics
Australia: Sadleirs Global Logistics
Australia: Spark Global Logistics
Austria: Air Sea Land (ASL)
Austria: ALLSTA Express Spedition GmbH
Bangladesh: Anchor Freight Limited
Bangladesh: Asia Star Logistics Limited
Bangladesh: ZOOM Logistics Limited
Belgium: Multiple Cargo Consult BVBA
Belgium: Spark Global Logistics Belgium BVBA
Cambodia: E J Logistics Co Ltd
Canada: Safesea Shipping Group Ltd
Canada: Tri-Alliance Freight Services Inc
China: Imex Shipping (China) Co Ltd
China: Ningbo Star Alliance International Logistics Co Ltd
China: Perfect Logistics Co Ltd
China: Shanghai Multiplex Concept International Freight Forwarding Co Ltd
China: Shanghai Worldtrans Logistics Services Ltd
China: Shenzhen FengDa Logistics International Ltd
China: Shenzhen Uni-Home International Logistics Co Ltd
China: Westbound Logistics Services (China) Ltd
China: Wirtz Link Service Co Ltd
Croatia: Express d.o.o.
Czech Republic: Air Sea Land (ASL)
Czech Republic: ZOOM Cargo
Dominican Republic: Interworld Freight SRL
Egypt: First Global Logistics
Egypt: On Time Shipping
Ethiopia: Emal Trading and Logistics Plc
France: Actitrans Overseas
France: Atlantide Logistics France
France: Freight International Transportation (FIT)
Germany: ALLSTA Spedition GmbH
Germany: Sea Master Shipping GmbH
Ghana: Total Logistics Ltd
Greece: Synergy In Supply Chain S.A.
Guatemala: Interworld Freight Guatemala
Hong Kong: Calpac Logistics Ltd
Hong Kong: CYTS-Spirit Logistics Limited
Hong Kong: Worldtrans Logistics Services Ltd
Hungary: Air Sea Land (ASL)
India: Athena Global Logistics Pvt. Limited
India: FreightBridge Logistics Pvt Ltd
India: InSynergy Supply Chain Solutions Pvt Ltd
India: NVS Shipping Services
India: Sai Seair Logistics Pvt Ltd
India: Seawings Global Logistics
India: V-Care Logistics Services P Ltd
India: Worldline Logistics Pvt Ltd
Indonesia: PT Sarana Pandawa Logistik
Ireland: Wells Cargo Logistics Ltd
Italy: BASE S.P.A.
Italy: New CargoJet s.r.l.
Italy: Thruex SRL
Japan: Interfracht Japan
Kenya: Transmeridian International Logistics Ltd
Kuwait: Bukhamseen Cargo
Lebanon: TransMed Logistics s.a.r.l
Malaysia: Kagayaku Logistics (M) Sdn Bhd
Malaysia: KC Forwarding Sdn Bhd
Malaysia: Linker Logistics (M) Sdn Bhd
Malta: O&S Shipping Ltd
Mexico: Kronoz Internacional
Mexico: Worldwide Shipping Transportation S.A. de C.V.
Myanmar: Elan Logistics Ltd
Netherlands: Inco Express B.V.
Netherlands: Lift Freight Services BV
Netherlands: TIS Logic BV
New Zealand: Nautica Shipping and Logistics Ltd
Nigeria: Afriglobal Logistics and Supply Chain Solutions Ltd
Nigeria: Airwater Cargo Services Limited
Nigeria: United Redox Global Links Ltd
Oman: Al Amri Shipping & Logistics LLC
Oman: Al Badri Logistics Services LLC
Oman: Star Line Shipping & Logistics
Pakistan: International Cargo Management (ICM)
Panama: LM Freight Forwarders, S.A (Panama)
Peru: ISC Peru Cargo SAC
Philippines: Globalistics Freight Services Corp
Poland: Delphia
Romania: ADD Cargo Solutions SRL
Saudi Arabia: Orbit Freight Logistics Services Agency (OFL)
Serbia: Express SEE d.o.o.
Singapore: Athena Global Logistics Pte Ltd
Singapore: Elan Logistics Pte Ltd
Singapore: JS World Freight Distributor (S) Pte Ltd
Slovenia: Air Sea Land (ASL)
Slovenia: Express d.o.o.
South Africa: Forte-Link Logistics (Pty) Ltd
South Africa: Fox Mallard Freight Pty Ltd
South Korea: Esprit Logistics Co Ltd
South Korea: New World Shipping Co Ltd
Spain: Milestone Logistics
Sri Lanka: Cargo Overseas Freight (Pvt) Ltd
Sri Lanka: Prestige International Logistics (Pvt) Ltd
Tanzania: CMTL Group Ltd
Thailand: Handle Inter Freight Logistics Co. Ltd.
Turkey: Enatrans Logistics Ltd
Turkey: Headway Global
Turkey: Mark Global Lojistik A.S.
Turkey: Solibra Lojistik Hizmetleri A.S
United Arab Emirates: Aura Freight Time Shipping LLC
United Arab Emirates: ILS International Logistics Services LLC
United Arab Emirates: STI Middle East LLC
United Arab Emirates: Wide Wing Shipping & Forwarding LLC
United Kingdom: Connaught Air Services Limited
United Kingdom: Westbound Logistics Services Ltd
United States: AIRSCHOTT / SEASCHOTT
United States: Alba Wheels Up Inc.
United States: Comage Container Lines Inc
United States: EZ Freight Services
United States: Interworld Freight Inc
Vietnam: Advantage Logistics Co Ltd
Vietnam: Crown Logistics Co Ltd
Vietnam: New World Logistics JSC
Zimbabwe: Customs Services
Spark Global Logistics with Project Shipment by Air
Uni-Home Handle Breakbulk Shipping of Annealing Furnace
New World Logistics with Air Transport of Rotor Shaft
TIS Logic Share Latest Shipment and Unveil New Logo!
Crown Logistics Vietnam Deliver Bulk Shipment to Laos
Exhibition Collaborations Secured in September 2019
First Global Logistics with Urgent OOG Air & Sea Movements for Oil & Gas Sector
Introducing Interfracht Japan as New Members!
Connaught & Sai Seair Assist with World Peace Rally
New Exclusive Event Web App for 2020 Annual Assembly