Today's online world makes it easier for our overseas offices to keep in touch and at Cargo Connections we embrace technology having developed our Smartphone Service. However, meeting face to face is, and always will be, the key to business success.
Our delegates gain access to our Meeting Manager program so that 20-minute business meetings can be arranged prior to arrival. During these important sessions, delegates are able to introduce their company and highlight their specialist areas, discuss cross trade and potential collaborations as well as providing information regarding their country's regulations and requirements.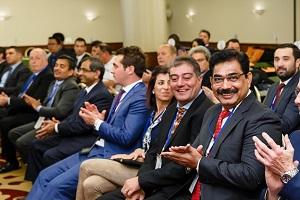 | Date | Name | Action |
| --- | --- | --- |
| 17th March 2019 | 2019 Annual Assembly, Dubai | view event |
| 19th March 2018 | 2018 Annual Assembly, Czech Republic | view event |
| 12th March 2017 | 2017 Annual Assembly, Vietnam | view event |
| 20th February 2016 | 2016 Annual Assembly, Belgium | view event |
Westbound Logistics Named as Winners at BIFA Freight Service Awards!
First Issue of our New eZine: 'International Cultural Body Language'
TransMed Logistics are Looking Back on 2019 & the RAME Beirut Event
Local Market Knowledge & Global Vision at JAC Logistics in Pakistan
Discover Custom-Made Logistics Solutions with Barnes & Kimura in the USA!
Westbound Logistics Services are BIFA Finalists!
Beginning 2020 by Introducing Representation in Namibia!
As We Welcome 2020 & A New Decade...
Exhibition Collaborations Secured in December 2019
FreightBridge Success at the Gujarat Star Awards