Two Recent Shipments from Sham Logistics Services
20th March 2017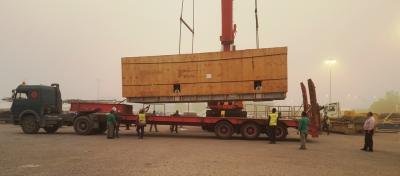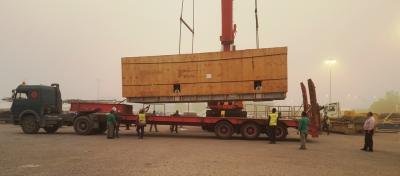 Sham Logistics Services are Cargo Connections members in Kuwait and Iraq providing reliable, efficient and cost effective logistics and courier services. They are pleased to share photos and details of 2 recent shipments being safely and securely handled by the company.
Firstly, Sham were awarded the customs clearance, transport and delivery of an oil pump, transformer and accessories by their local customer. The cargo was handled from the USA to Kuwait by breakbulk shipment for KOC (Kuwait Oil Company) with weights as follows.
Oil pump - 75tns
Transformer - 37tns
Accessories & supporting parts packed in 6 boxes - 25tns
The loading and clearance process of the high-value cargo had to be very carefully handled due to the adverse weather conditions of Storm Sandy but the expertise of Sham Logistics Services lead to a successful operation 48 hours earlier than their commitment to the customer.
Secondly, Sham have also won a contract to handle the customs clearance, transport and delivery of crane parts for KNPC (Kuwait National Petroleum Co) with the 1st part of the shipment completed earlier this month. The over-dimensional cargo measured 18m in length and the shipment arrived in Kuwait from the UAE via Saudi Arabia. Sham are handling the complete Kuwait part of the project, using 20m long trailers to transport the crane parts.
Photos of each shipment can be viewed in the below thumbnail gallery.
Representation in Belgium with Multiple Cargo Consult
Our Comprehensive Online Training Program
Reliable Freight Forwarding from Calpac Logistics
Al Nahrain Complete Project for Potassium Plant
Exhibition Collaborations Secured in December 2018
A Wide Range of Personalised Services from Thruex
Comprehensive Freight Forwarding from Worldtrans Logistics Services
First Global Logistics with Drilling Equipment From Egypt to Croatia
Exhibition Collaborations Secured in November 2018
Outside The Box Logistics Thrive on Problem-Solving!